The Stock Room blog go to start
apppro's take for 10/10/2014 05:00 pm EST
Even Capt. Kirk has had enough with the FEAR-MONGERING by media!
<![if !word & !ppt & !excel & !vml]>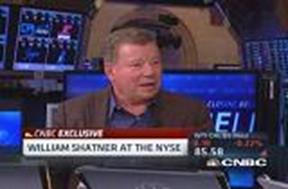 <![endif]>
Capt. Kirk: Bored with boardroom battles Fri, 10 Oct '14 | 4:47 PM ET
                Of everything that he said in this interview the MAIN thing is what he says at the beginning, and I paraphrase a little:
"You're scaring the crap out of the public and you should stop it. Things are not bad! You, the media is causing most if not all this angst in the markets & the economy!"
_______________________________________
apppro's take for 09/26/2014 09:00 am EST
Et tu Brutus?
<![if !word & !ppt & !excel & !vml]>
<![endif]>
                These FLUSHES keep occurring because stupid FinReg forced regualtors to take BIG BANKS out of the markets and left us all to the whims of hedge funds! UGH! UGH! UGH!
_______________________________________
apppro's take for 08/31/2014 09:00 am EST
Damn it! This is NOT Healthy!
S&P YTD
<![if !word & !ppt & !excel & !vml]>
<![endif]>
My Portfolio YTD
<![if !word & !ppt & !excel & !vml]>
<![endif]>
                I am sick & tired of the media and so called financial experts who keep saying that periodic 1 to 3 day HFT micro crashes are "healthy" for the markets, or "needed" so the market can move higher. BULLSHIT! I find nothing healthy, no rather sickening for these periodic crashes. And WHY, why do we need them? WE DON'T! These sell offs are there ONLY because a few hedgies need their shorts covered or a few have been sitting in cash waiting for a cheaper price. You may notice in those charts that the 'length' in days of the micro crashes are VERY close to the 'length' in months it takes to recover back the loses! WTF? Meanwhile the rest of us suffer!
Everyone should rise up and scream that:
"It's The Mentality Stupid"
STOP the INSANITY NOW!
_______________________________________
apppro's take for 08/23/2014 08:30 am EST
"Bigger Banks are Better" sign
<![if !word & !ppt & !excel & !vml]>
<![endif]>
                During an interview yesterday from Jackson Hole Conference, Dennis Lockhart said just that! Consolidation in the banking system is happening now in my district and was needed to preserve the system; and that bigger banks are needed in today's system.
                I am still waiting for CNBC to put this part of Fed's Dennis Lockhart's interview with Steve Leisman on their website, so I can post that too. However, I think a certain Senator must have made phones calls not only to CNBC but to the Federal Reserve itself saying, "WTF are you guys talking about?? I've told you 1000 times that I want these banks that hurt my family when I was a child broken up! Do I have to sick Holder on you too?"
_______________________________________
apppro's take for 07/03/2014 04:30 pm EST
Conflict of Interest leading to #RIGGED?
                I'm sure many of you watched the GoPro IPO this week. Some pop! It sure was a winner for those who for over a decade worked their butts off to create a nice product. Congrats to them, BUT this is not what I'm writing about. Rather, it's about the vultures that surround the IPO and the media networks giving them platforms to do so. However, in this rant I am going 1 step further and the SEC and FCC and Congress really need to look into this.
                OK, it's no secret that so-called 'commentators' on CNBC, FOX, Bloomberg, etc. hype and front-run (for lack of a better phrase) and promote stocks that they own or are short or have option positions in or whatever. In and of itself I find this disgraceful. No way in heck should anyone be allowed to buy, sell, short, etc. a stock, and then have free reign to go on WORLD WIDE TV and push the heck out of their positions. There are never any fair disclosures, but even if there were it doesn't matter – they say what they want anyway and the damage, so to speak is already done. Not only do listeners react to this (Just go back to when Cramer first started doing his show and how he had to warn people not to buy or sell when he talks!), but now we have #HFT 'seeker' algo's listening to! For the past few weeks leading up to and now during the GoPro IPO, how many times – hundreds? – of times did not only the reporters mention GoPro, but so did these traders that disguise themselves as 'commentators'. This is an outrage and why the SEC hasn't stopped it is an outrage! #RIGGED
                Fine, we're all use to it, so it's OK. Well, I'm NOT! I even had Twitter exchanges with a few of them. Some even admitted freely on TV– after it went public of course – that they had gotten in on the IPO and that they were flipping out. This was after weeks of hype! Again a disgrace!
                However, this week I got a NEW REVELATION! The day of the IPO, during a segment on how much GoPro had popped and how much $money$ Venture Capitalist VC's were making on the IPO; a female reporter (I won't mention names.) said that even Comcast was NOW into VC investing. I was getting the distinct impression that she seemed to indicate that Comcast, the owner of NBCUniversal, CNBC, and a major cable company had used VC $ in GoPro, too! Wait a friggen' moment! The company that owns CNBC who has been hyping GoPro for weeks MAY have been a VC in the company and had a huge stake in the IPO? WHAT?! Does no one else find this wrong? Does no one ask, "Where are the glass walls?" I find it bad enough that they cross promote their reality financial TV shows on CNBC, but come on people – THIS VC & IPO LINK REALLY STINKS AND IS WHAT I TRULY CALL #RIGGED!
                Even if they were not in this specific IPO, what other IPO's that CNBC has hyped was Comcast (Or any media outlet.) a VC in? I'm sure that this is perfectly legal but really >>> the SEC, Congress, and the rest of you do not find this at all disturbing?
#RIGGED! #RIGGED! #RIGGED! #RIGGED! #RIGGED! #RIGGED! #RIGGED! #RIGGED!
Side note: I did not include names and links cause like Dragnet "Names were changed to protect the innocent." But any of you in the biz out there will know exactly whom I am referring to!
My "Fair Disclosure": I have NO position in GoPro in anyway except watching with jealousy! And after the initial post above, I did find a list on Comcast VC companies. GoPro does not seem to be on the list: Comcast Ventures
<![if !word & !ppt & !excel & !vml]>
<![endif]>
HAPPY JULY 4TH
                And heaven help us all, because on July 17th CNBC sponsors the World's greatest example of "Front-running" and hype known to the financial world.
<![if !word & !ppt & !excel & !vml]>
<![endif]>

_______________________________________

apppro's take for 06/28/2014 09:30 am EST

The MUST read SEC letter!

Final Rules Relating to Cross-Border Security-Based Swap Activities

(Continued on page 2)

<![if !vml]>